A running commentary of what I get up to, get distracted by and generally end up not doing with my hobbies of wargaming, rpgs and anything else I find interesting. Key focus at the moment is Mordheim, DnD, Otherworld miniatures and rpgs. Any historical stuff (mainly colonial) I now post on a seperate blog.
Saturday, 31 May 2014
Just a few more figures painted this year.
Otherworld Demon Statue
Otherworld Frost Giant
Otherworld Water Weird
Just finished off the Otherworld giant ants.
These figures are quite fragile (I snapped off one leg and an antenna) as they need the legs and antennas stuck on to the body which is not as hard as it looks, but requires some patience.
The bases were a quandary, dungeon or out door. I eventually opted for outdoors with some rocks as I may also use these with may Darkest Africa stuff.
Colour was quite simple, first I painted the underside GW Verrmin brown then a heavy wash of GW Agrax Nightshade. I then repeated the process for the top half.
This left me with fully painted ants but to improve (hopefully) the look, I highlighted the top only with GW Vermin Brown followed by a lighter highlight of GW Vermin Brown mixed with white.
Eye's are GW Regal blue with a highlight of Enchanted blue.
Then add some flock and job done.
Wednesday, 28 May 2014
This is posted a lot later than originally intended. So far I have stuck reasonably to the plan raised in December with the following painted to end of March.
23

Darkest Africa – Mainly Masai
10

US WW2 Yanks – The remainder have base coats just need finishing.
29

DnD creatures include a couple of terrain pieces
No zombies but that is not a surprise, started to get distracted on a few side projects such as moderns (africa), and 1980's cold war gone hot, but to date I have resisted.
To end of June I am aiming for more of the same with Masai and WW2 yanks mixed in with some fantasy stuff (Demon, slimes and jellies and Ants are ready to go with the bases completed).
I also invested in another set of Otherworld miniatures (including the ants) and took delivery of the balance of the kickstarter so a fair bit to paint so that's my annual figure purchases made, well at least to Selwg unless I fail my save vs shiney.
Now if only I can avoid that
Toyota Technical
from Empress Miniatures that is calling me.......
A repost of a challnege set up by
Duke of the Blood Keep
and
Minis by Finch
which I intend on joining in.
Both sites are excellent insperation for old school gaming and painting, and on with the repsot:-
For those who don't know about
Minis by Finch
, it's an excellent site full of beautifully painted minis by a chap called Finch. We've both admired each others work for years and I thought it would be cool to do something together, so I came up with the Helping Hand Challenge.
Our aim is to paint one miniature from Otherworld's DAB 4 boxset a month starting in June 2014 and finishing in May 2015.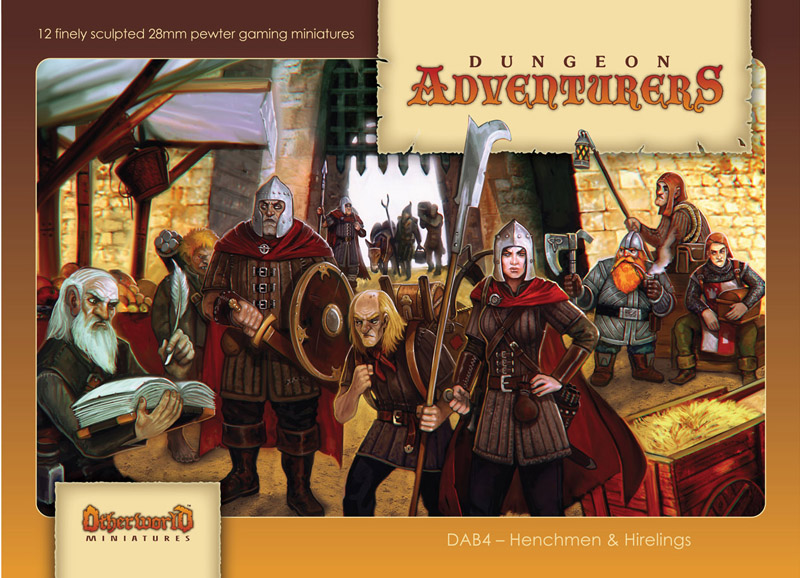 However, we'd like to spread the love and open this challenge out to other bloggers too, so here are the rules:
You must own the DAB4 Boxset

You must own a blog

You must paint one miniature a month in the order shown below

You must post your results on the last day of each month

You must include a link to each other participating blog
That's it.
This is the order:
June Porter
July Mule Handler
August Mule
September Linkboy
October Scribe
November Pack Bearer
December Squire
January Lantern Bearer
February Dwarf Merc
March Crossbow Merc
April Spearman Merc
May Sergeant
(it's also the order the minis appear on the card sleeve on the set)
If you want to join in please post a link to your blog in the comments with the words "I'm in" (if you miss two consecutive months I will remove you from the participants list). I will update this on June 1st with a full list of participating blogs so everyone knows who is playing along.
And most of all, have fun and enjoy painting some beautiful models.